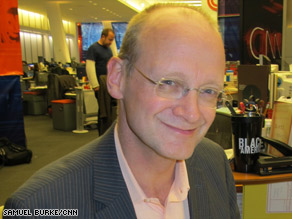 Tom Evans, Sr. Writer, AMANPOUR.
On AMANPOUR. tonight, Christiane will be interviewing former British prime minister, and now Middle East peace envoy, Tony Blair, about the breakdown of the peace process and how it may be possible to resume negotiations. Noted author and theologian Karen Armstrong will also join us to preview the International Charter for Compassion, debuting Nov. 12 worldwide. The Charter is a global initiative bringing together all faiths to redefine the golden rule: "Treat others as you wish to be treated". Christiane will pose to both her and Rabbi David Saperstein questions about how this religious reinvigoration will impact modern moral dilemmas. There's plenty of other international news this morning. Here are some perspectives on some other stories making news that resonate way beyond the headlines.
Tom Evans
Sr. Writer, AMANPOUR.
KOREAN PENINSULA – will new naval skirmish be followed by more clashes?
-         Navies of North and South Korea exchange fire in disputed waters along western coast
-         It was first naval clash between the two countries in seven years
-         South Korea: its navy opened fire after a N. Korean ship crossed the demarcation line and ignored warnings to turn back. N. Korean ship damaged. No S. Korean casualties
-         North Korea: South guilty of a "provocation" while a patrol boat was on "routine guard". No word on N. Korean casualties, if any
QUESTION: What impact, if any, will this clash have on possibility of new talks on North Korea's nuclear weapons program?