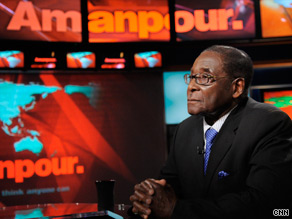 Robert Mugabe says sanctions against his country are 'unjustifiable.'
The interview with Zimbabwean President Robert Mugabe caused controversy among the vast majority of viewers.  Most expressed disappointment over Mugabe's "arrogance and blatant lies" during the interview and noted his "resistance" to helping the country of Zimbabwe.  Most had very strong adjectives for Mr. Mugabe that highlighted the indignation felt toward the "false promises" and "lack of action"  he had expressed, according to the audience.  Many viewers thanked Amanpour for a "great interview" and for holding Mugabe accountable, although "one thing was clear", some stated, and that was that "Mugabe could not be trusted."
Below, you will see some opinions from viewers like yourself:
CNN MAILBOX
Jolly well done with your interview of Mugabe this evening.
Your questions concerned real issues; and he squirmed like blazes to slither out of it. Even though he would not admit to any of his wrong-doings, your audience was left with the certainty that this man cannot be trusted or believed.
In the southern part of Africa the folks know very well who and what he is. The problem is that he is up 'close-and-personal' with many in the senior leadership; having each other by the 'short-and-curlies'. Each one knows the other's secrets, and nobody would talk; because this would ignite a fire on own turf.
There is one area which needs a measure of investigation, which could blow it all wide open. Over the past ten (or more) years I've often watched and listened to this man, with particular reference to his highly irrational and senseless statements. In it all I've seen a clear (and remarkable) resemblance (a carbon copy) of a man who had the world's attention 60 – 70 yrs ago, i.e., Adolf Hitler.
In the early 30's Hitler became a hero because he came through with amazing projects which created jobs for the German population, so that they could have a regular plate of food, when the rest of the world was starving. Therefore, it was no surprise that he became the Head of State of Germany. However, as time went by, a situation developed which was described in great detail in a documentary on Discovery or the History Channel (or the like). [You wouldn't have a problem tracking and locating that documentary]
Hitler started showing irrational behavioral patterns. His personal physician wrote to Hitlers aide de camp  (I think it was Goebels) to inform him that Hitler suffered a certain disease which (if left untreated) attacks and causes damage to the spinal cord, and then moves-on to the brain.  The physician stated that this caused the increasing irrational and senseless behaviour (and decision-making) and he predicted that by 1946 Hitler would go completely 'over-the-edge'.  The rest is history, i.e., Hitler did not make it to 1946.
Question: Is there a Journalist/Reporter who would love to research President Mugabe's health record?
Best regards, and keep-up your great work.
Leon
Unfortunately you tried giving mugabe a voice. He is dead politically, pls let him remain so. You heard his rant, and obviously he is disconected from everything around him.As Africans we are ashamed of Him.
From: bada – francis, Nigeria
He is hero to those who benefits from his worse form of governance, God have mercy on his soul