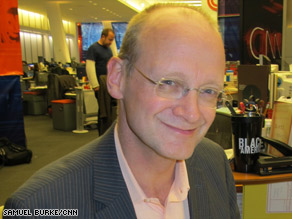 On AMANPOUR. today, we examine Haiti's history of poverty and government instability in the wake of the devastating earthquake. Will the aid efforts be just a temporary fix or might they provide long term promise for a country that has so much recent experience of natural disasters? We also update the story from Iran of the suspicious death of Dr Ramin Pourandarjani, who refused to sign death certificates at the prison in Tehran where he worked. Kahrizak prison has such an appalling record of human rights abuses that it was recently shut down by the Iranian government. The son of a powerful, pro-government politician was beaten to death there, prompting a rare official investigation into alleged abuses. The investigation though failed to report on the circumstances surrounding Dr. Pourandarjani's death, which highlights the ongoing tug of war between the different factions within Iran's government. Now here are some perspectives on some of the top stories today.
Tom Evans; Sr. Writer, AMANPOUR
HAITI – Will international aid reach survivors of Haiti's earthquake before they start to vent their anger and frustration on the streets?
- reports of rising tension in Port-au-Prince, looting of some food warehouses, and even some Haitians forming barricades from bodies
- relief workers beginning to arrive, but big issue is getting supplies (water, food, medicine) to worst affected areas
- major problem is debris on the roads which is blocking the distribution of aid
QUESTION: When will heavy lifting equipment arrive in Port-au-Prince and when will it get on the ruined capital's streets?