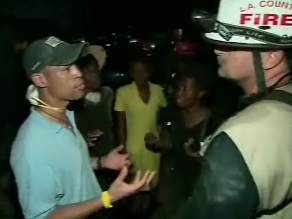 AMANPOUR. 's Vladimir Duthiers is in Haiti helping report and translate for Anderson Cooper
Our production assistant Vladimir Duthiers is in Haiti, helping to report and translate with Anderson Cooper and Dr. Sanjay Gupta. We are keeping track of his updates from the ground with photos, a video diary and text messages: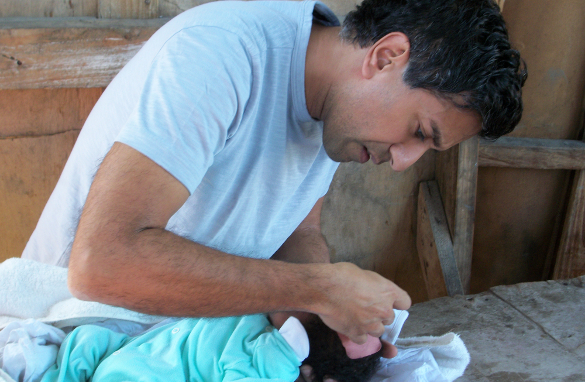 Dr. Sanjay Gupta with Etienne Lebien, a 15-day-old baby with a head wound injury. We came across Mr. Jean Fritz Logicel who was carrying little Etienne in search of a doctor: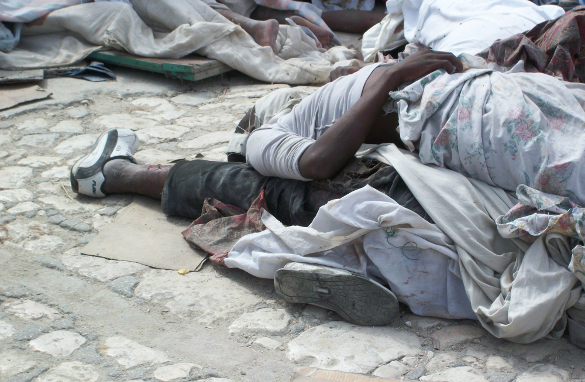 A body on the streets of Port au Prince. In the early days after the quake struck, many survivors carried bodies out of destroyed homes and left them on the side of the road.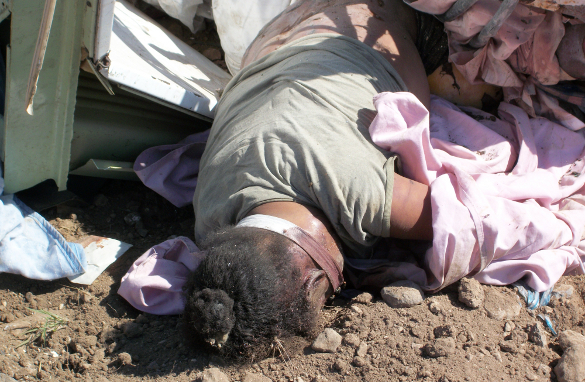 We discovered a mass grave where bodies that were picked up from the streets by earth movers and carted away in dump trucks. They were then placed in massive, freshly dug holes at least 50 feet deep on the outskirts of Port Au Prince. We did not notice anyone trying to identify the bodies. At this point, a few days after the quake, most bodies were bloated and unrecognizable. Still, I can only imagine what it will be like for the hundreds, perhaps thousands of families who will never know the final resting place of a loved one.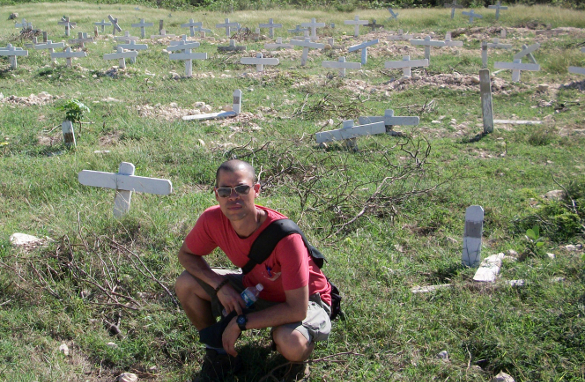 The mass graves were being placed a few feet away from a what our driver thought was a grave for victims Hurricane in 2008. One person told me that they felt that Haiti was "made to suffer."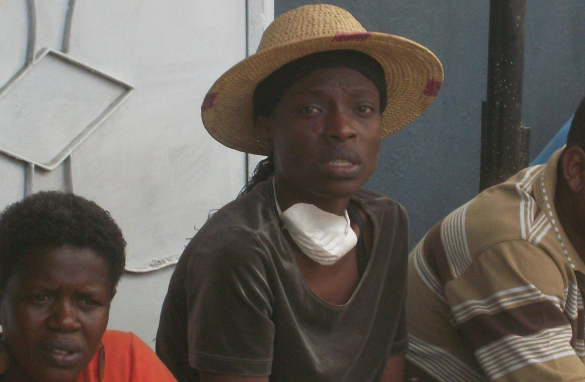 Manouchka Polynice waits for word on weather the Los Angeles County Fire Department is able to find her 10-year-old daughter Laika whom she believes is alive underneath the rubble of a daycare center. Sadly, after almost nine hours of digging, the search is called off. Manouchka tells us she knows in her heart that Laika is alive and begs us to return to the next day. This happened almost four days ago on January 16. With survivors as young as 5 and as old as 69 being found as of January 20, I can't get Manouchka's pleas out of my head.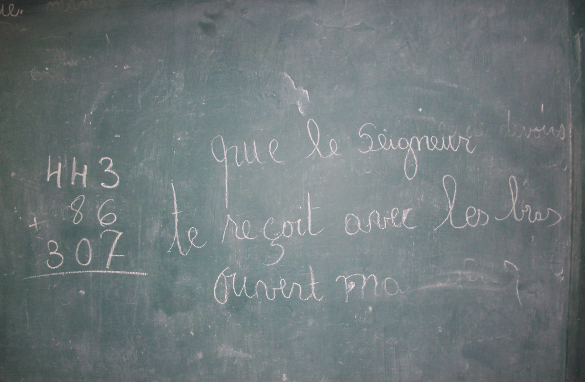 A convent school in Leogane, Haiti where locals estimated that several hundred girls aged 10 to 17, were killed when the school collapsed. Written on one of the chalkboards in a classroom not damaged were the words "May God Receive You with Open Arms"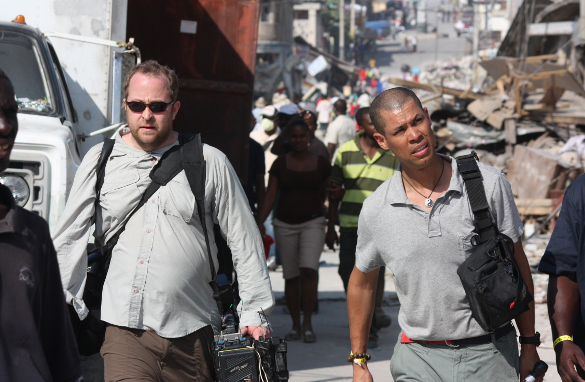 CNN cameraman Neil Hallsworth and I Racing to report on hundreds of Haitians looting a shop on Centre Street in Port Au Prince. Looters cart out boxes of candles which they then sell a few feet from where they were pilfered at inflated prices. With electricity out in most of the city, residents are all two willing to pay these prices. Store owners fire guns into the air to scare off the looters but they keep coming back.
January 26: I thought I was used to the stench of rotting human flesh, but today it was unbearable. Right at the foot of our hotel, locals managed to pull two bodies from the rubble of a building next door. As the trucks used to pick up the dead were perhaps slow in coming, people decided to burn them.  It's a sight and smell that I will never forget.
January 25: We spent the day reporting on efforts by groups like Save the Children and UNICEF to help and protect the thousands of children who have lost family members in the earthquake. Foreigners anxious to adopt Haitian children are circumventing the adoption red tape by trying to adopt kids directly. This has led to reports of child trafficking – a condition that existed in Haiti even before the quake. Many children are sold as domestic workers or worse. Bo Viktor Nylund, a Child Protection Officer at UNICEF, tells me that "whenever you have great poverty, there are risks of sexual exploitation." Nylund manages an Interim Care Center for children in the town of Lilavois, Haiti. We met some incredible orphans who have been through hell, yet still manage to sing and dance at a moment's notice.
January 24: I visited the tomb of my grandparents. I was worried that the graves would be disturbed either by the quake itself or by people replacing those interred for many years with the bodies of quake victims. Thankfully, with the exception of a few crumbled blocks, it was undisturbed. It was an incredibly emotional moment for me as I never knew my grandparents. Standing in the midst of hell, I was able to taste a small slice of heaven.
January 23: I have been visiting several hospitals in Port-au-Prince over the last couple of days and the scene there is even more heartbreaking than it was during my first days in Haiti. Back then – and it really does feel as if it were a long time ago – we were confronted by the sight of dead bodies on the streets and sidewalks of the city. But for those people, the pain is over. For others left behind, judging by the screams in hospital and medical tents put up in the fields, it's only just begun. Some of the field hospitals are better equipped than others, but all are staffed by dedicated medical professionals. The best that I've seen thus far is being managed by the University of Miami near the Toussaint L'Overture airport. Dr. Dan Diamond of Medical Teams International tells us that he has never seen so many broken bones and amputations at a disaster site. However, he says that getting it up and running so quickly and efficiently was "divine serendipity."
January 21: At the General Hospital of Port-au-Prince, Sergeant First Class Daymond Graves, a 14 year veteran with two tours in Iraq under his belt with the U.S. 82nd Airborne Division, tells me that he hasn't seen much violence in Haiti except for the occasional drunk. His unit is posted at the hospital charged with providing 24-hour security. Sgt. Graves feels that the U.S. Army's presence has made foreign medical workers more comfortable, which in turn has led to an increase in medical personnel on the ground. Nighttime is especially wrenching. "People screaming all night long", he says. Sgt. Graves also says the Haitian people are "really hurting right now. We are trying to get supplies in here which I know they don't have enough of. I wish I had medication to give them myself."
January 20: I was awakened by a significant aftershock approximately at 6am this morning. I felt the earth start to sway and the building creaking and groaning. I jumped and raced outside in my underwear. Across the street on the Champ de Mars. Hundreds of people who have been sleeping there since the quake it started to cry out into the morning dawn. It was unsettling and nerve racking.
Video diary from January 19:

January 19: After we discovered that the 69-year-old woman pulled out of the rubble of a building on the grounds of the national Cathedral was lying in afield hospital without a clear sense of when some crucial treatment might be administered to her, we were able to get a helicopter medical evacuation. They transferred her to the USS Bataan and will then take her to a hospital in Milot near Cap Haitian. See video below:
January 19: I've seen several UN soldiers in full body armor as if they expect an IED attack.
January 19: We are headed to Cite Soleil one of the poorest slums in Haiti. Miraculously left fairly intact after the quake since homes are just sheets of tin .
January 19: Standing in the middle of a mob of looters with gun shots ringing in the air, there is no sign of the UN or the US military or any kind of order whatsoever.
January 19: Today we decided to try to locate a young girl named Bea whom we saw pulled out of the rubble within hours of our arrival in Haiti last Tuesday. We wanted to see if she had received proper medical care and if her family was safe. As we got out of our pick up trucks, several shots rang out. We raced up the block to see what was happening and came upon a mob of several hundred Haitians looting a store. Initially, I thought they were after food but after speaking to several bystanders, I learned they were taking candles by the box. With Port-au-Prince still without electricity, you can imagine how valuable these are. So valuable in fact that as soon as a looter came out with a box, he set up shop directly on the sidewalk selling them at inflated black market prices. Anxious shop owners hired the Haitian police to stop the looters and from time to time officers fired shots into the air from their automatic rifles – provided by the shop owners since the police don't even have weapons these days – to disperse the crowd. It worked for only a few minutes. Looters would scatter only to return a few minutes later. In the midst of this chaos, I witnessed a tender act of kindness. A young man selling some kind of packaged food from a large burlap sack was haggling with a woman over the price. She asked if she could sample one before she paid for it and he agreed. He gave her a couple of packs and rather than taste one, she put them in her pocket and begged the man to give them to her as a gift. Smiling at her, he said no problem. "Consider it a gift," he said.  It was a sweet scene happening 10 feet away from a man swinging a wooden plank with nails in it for a chance to take what didn't belong to either of them.
January 16:  Searching for survivors with American firefighters from Los Angeles County and their rescue dogs.
January 15: A truck just arrived and dumped bodies into a mass grave where we estimate that several hundred bodies have already been dumped. It's an area of unspeakable horror exacerbated by the fact that it doesn't appear that anyone is keeping track of the names or who these people are. But they were someone's mother, father, sister, brother, wife, husband and we are having to bear witness to their passing from this earth.
January 15: We have just come across several large pits filled with bodies. Bodies bloated and unrecognizable, we don't even know if they have been identified yet.
January 14: Yesterday was horrible: dead babies rotting in the street, dump trucks filled with corpses. Horrifying and sad.
Here's a report from AC360° of a mother desperately searching for her children. Vlad is in the aqua colored shirt translating between the mother and Anderson Cooper: