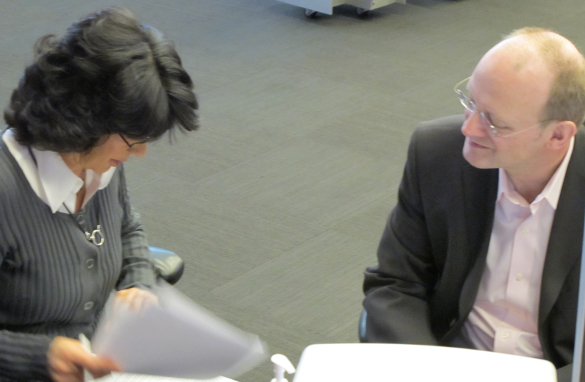 Sr. Writer for Amanpour, Tom Evans, works on scripts with Christiane
On AMANPOUR. today, we look at the aftermath of the massacre of at least 16 students at a birthday party in Juarez in Mexico this past weekend. The attack comes just weeks after Mexican President Felipe Calderon sent 2,000 U.S.-trained federal police officers to help restore order in this border city. The drug war in Mexico has claimed an estimated 17,000 lives in the past three years. Christiane looks at the effectiveness of Calderon's military-style campaign against the narco-traffickers. Is militarization the price Mexican society must pay to win back the country? And in the process will the very fabric of Mexican democracy be torn apart? There are also other important stories to tell you about today. Here are some perspectives on some other headlines.
Tom Evans
Sr. Writer, AMANPOUR.
CHINA/U.S. – Will new tensions between U.S. and China worsen already strained relationship?
- China warns U.S. that any meeting between President Barack Obama and the Dalai Lama would harm bilateral relations between the two countries
- White House has not set a date for a meeting, but Dalai Lamai – Tibet's exiled spiritual leader – will be in U.S. in late February and in May
- Row over Tibet comes amid diplomatic tensions over Google's charges of censorship and hacking by China, and dispute over U.S. plan to sell "defensive" weapons to Taiwan
QUESTION: Who has the stronger hand in the diplomatic maneuvering between the U.S. and China – Washington or Beijing?
EUROPE/U.S. – How important is the European Union in the eyes of the Obama Administration?

- Anger and embarrassment in Europe after President Obama decides not to attend a U.S.-E.U. summit in Madrid in May
- Reports that European officials only found out about Obama's decision from press reports
- U.S. National Security Council official insists there were no plans for the President to travel to Spain for the summit. New indications Obama will spend more time in the U.S. this year focusing on domestic policy
QUESTION: Is European influence on the world stage diminishing amid the growing power of emerging nations such as China, India, and Brazil?
AFGHANISTAN – How important will Saudi Arabia be in the proposed peace talks with the Taliban?

- Afghan President Hamid Karzai left for Saudi Arabia today to discuss plan for reconciliation with Taliban and reintegration with Afghan society
- Saudi Arabia was one of few countries that recognized Taliban government before it was overthrown by the U.S. in 2001 after 9/11 attacks
- Taliban says it won't accept Karzai's reintegration plan until foreign troops, which are arriving in Afghanistan in ever larger numbers, leave the country
QUESTION: Will the Taliban begin negotiations with the Karzai government – and be open to some kind of compromise – if Saudi Arabia steps into the peace process? Or will the Taliban continue to press for some kind of military "victory"?