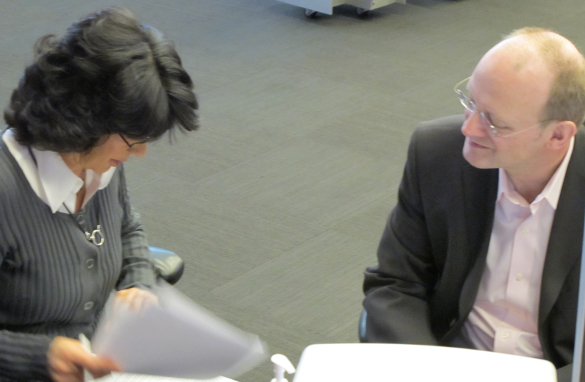 Sr. Writer for Amanpour, Tom Evans, works on scripts with Christiane
On AMANPOUR. today, we focus on Islam and Europe. With recent news that France is moving closer to banning the full Muslim veil, the recent attack on the Danish cartoonist by a Somali man with links to al-Shabaab, and the banning in Britain of a radical Islamic group, Europe is grappling to come to terms with its growing Muslim minority. After years of accepting Muslim immigrants, some European nations are growing fearful of the Muslims in their midst and placing new limits on immigration and the activities of extreme Islamic groups.  Some politicians are capitalizing on those fears, making Islam a hot political issue in Europe. Is Europe feeling it's had enough of Islam? There are plenty of other stories to tell you about as well. Here are some perspectives on some headlines in the news today.
Tom Evans
Sr. Writer, AMANPOUR.
PAKISTAN/U.S. – How big is the U.S. military footprint in Pakistan?
–         Three U.S. troops are among seven people killed in a roadside bomb attack in northwest Pakistan near a school
–         Pakistan says American troops are in the country to help train local security forces
–         Bombing could be retaliation for repeated U.S. drone strikes against Taliban and Al Qaeda targets in border area near Afghanistan
QUESTION: Will there be a political backlash in Pakistan against the use of U.S. military personnel to train Pakistani security forces?
IRAQ – Are terrorists trying to stir up ethnic hatred by attacking Shia pilgrims?
–         Bombing kills 20 people and wounds 117 others in holy city of Karbala, south of Baghdad
–         Attack one of four targeting Shia pilgrims Wednesday who are celebrating the Arbaeen, the end of the 40-day mourning period that closes Ashura
–         Blasts raising fears Sunni extremists may be trying to disrupt the pilgrimage
QUESTION: Will the Shia community in Iraq stay calm in the face of these bomb attacks – or will Shia extremists retaliate?

SUDAN – Will decision to allow genocide case to proceed against Sudanese president lead to more vigorous international action to apprehend him?
–         Appeal judges order International Criminal Court to rule again on whether to allow genocide charges against Sudanese President Omar al-Bashir for his role in campaign of violence in Darfur
–         Al-Bashir, who remains in office, already facing charges of war crimes and crimes against humanity
–         Prosecutor Luis Moreno-Ocampo wanted al-Bashir to face genocide charge at same time, but pre-trial judge left that off original arrest warrant, citing lack of evidence
QUESTION: Will countries that have allowed al-Bashir to visit in the past now consider arresting him if he travels again?