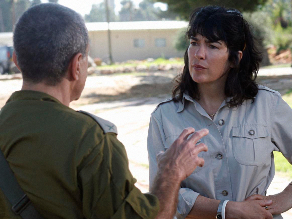 Christiane – all ears for the feedback.
Amanpour. Facebook viewers applauded the interview with Nigerian Attorney General, Michael Aondoakaa and Nigerian author, and Nobel laureate, Wole Sonyika.  The vast majority expressed a deep disappointment for the blatant lies believed to be stated by the Attorney General, Mr. Aondoakaa followed by strong accusations that doubted his credibility as a leader.  Nigerian viewers who commented, "Knew how the PDP operated in reality", also accused the Nigerian political party PDP of fraud and corruption.  On the opposite side, most viewers supported Mr. Sonyika's theories and his stance regarding the political future of Nigeria and described him as "a true statesman and a patriot."  Additionally, Amanpour Email viewers commended the show Unattainable Beauty that discussed a French lawmaker that introduced legislation to label retouched photos from advertising to magazines spreads.  While the majority of the audience felt this was a good step toward the restoration of self-esteem in women, especially in teenagers, others, commented "retouching photos was the effect, not the cause" and that this action was not deceitful but rather an attempt to show beauty.
What are your thoughts? Please share your thoughts with us! In addition, if you missed the show go to http://www.amanpour.com for more information.
Below, you will see some opinions from viewers like yourself. We would love to hear what you think.
Email comments
MADAM AMANPOUR,
Nigeria most corrupt & inept Attorney General of the federation, Mr. Aondoakaa who soyinka called a liar is suspiciously being removed as attorney general & redeployed as Minister of Special duties
Zinno Katta
Dear Christiane,
I am watching your show now and heard Diane Von Furstenberg talk about the age of models and not promoting super-skinny ones.  I'd like to bring your (and your viewers') attention to what I received today as an ad on my Yahoo mail - from Kenneth Cole/Nordstrom's.  I thought it was outrageous and offensive.  When you click to the actual Kenneth Cole site, the models look normal. Where can someone complain about the promotion of a minus-zero, underage model?
All best,
Emily Lo
Great show about retouching fashion photos – still watching. As a designer i have an interest in this, but retouching is the effect, not the cause. Just look at the pictures women put on the social networking and dating sites. My guess is that the pictures put on such sites are on average 3 years younger than actual age. They do not do this to deceive, they just want to present themselves as beautifully as possible. Focus on health (including mental self image) and fitness programs, and the beauty will naturally follow.
Gregory Osadetz
Brazil