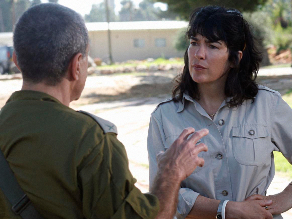 Christiane – all ears for the feedback.
The interview with Mosab Hassan Yousef, the son of a founder of Hamas who claimed he became a spy for Israel's domestic security service proved exceptionally popular.  Religion controlled all discussions Amanpour viewers shared regarding this interview.  Emotions grew strong as viewers exchanged their clearly favored point of view, especially in Facebook.  In addition, peace continued to be the desired outcome among a few, who felt it was "still attainable."  Lastly, record amount of emails received concerning one topic that many considered a revelation, the documentary Scream Bloody Murder which, was described as "absolutely riveting and breathtaking!" 
What are your thoughts? Please share your thoughts with us! In addition, if you missed the show go to http://www.amanpour.com for more information.
Below, you will see some opinions from viewers like yourself. We would love to hear what you think.
Email comments
No levelheaded, peace loving human being want to see proliferation of nuclear weapons. While Iran is in the 'hot seat', one could not help but wonder why isnt there any scrutiny on the Israelis? Its incomprehensible to see a how a 'probably nuclear armed nation' driving the effort to pressure a 'potentially nuclear ambitious nation'. Because of this unfairness, we, in the west have no moral standing to lecture Iran.
Jean Luc Picard
France  
Dear Christiane:
The foreign relations committee in Congress sticks it to a NATO ally and friend by passing a resolution condemning the Ottoman Empire for genocide!  Is this how corrupt the political system has become that they would do such incredible damage to Turkish – American relations just to garner Armenian political contributions and votes?  Is this how disdainful they are towards their Party leader President Obama, that they would ignore his appeals and make him look ineffective and weak! Not to mention reinforcing perceptions in the Middle East that the U.S. is still an arrogant and out-of-touch power.  We are talking about the Ottoman Empire, you know, not modern Turkey!  How would the American Government feel if some European country or NATO ally condemned them for the genocide they committed to the American Indian, which is more horrific than anything the Ottoman's did. Hope you will report on how the Islamic government in Turkey is moving to undermine secularism by buying votes and stacking the judiciary and military with Fethullah. Thank you for an excellent show and outstanding reporting.
Raheman