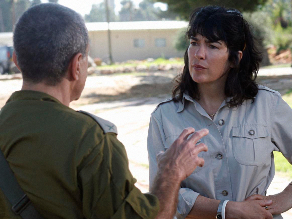 Christiane – all ears for the feedback.
The Amanpour audience expressed interest regarding the story of the use of rape against women as terrorism.  Most agreed with this concept and added it was not only "an act of terrorism but it was also a criminal offense."  Additionally, the Israeli novelist, Oz Amos proved popular among Amanpour viewers.  Many felt inspired and stated they hoped peace could be accomplished in the Middle East. 
What are your thoughts? Please share your thoughts with us! In addition, if you missed the show go to http://www.amanpour.com for more information.
Below, you will see some opinions from viewers like yourself. We would love to hear what you think.
Facebook Comments
Comments about rape against women equaled terrorism in Africa
Agbai E Agbai i think rape is a criminal offence and not a terrorist act.
Ezumah Davis Its terrorism if u use it as a weapon of war, Vis a vis d Congo.
Robin Young In parts of Africa, as in Bosnia, rape has become a political tool of subjugating the enemy by having armies rape thousands of women. By breaking up families and forcing women to bear children conceived by the rape, it has long term consequences after an army has been withdrawn or loses. With the lack of counseling and help for these women, their lives can be ruined, especially if social tradtions cause them to be expelled by their families.