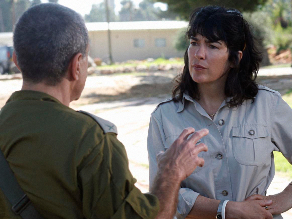 Christiane – all ears for the feedback.
As France proceeded forward toward its partial ban on the burqa and a European lawmaker declared that the Muslim veil was a symbol of political Islam, Amanpour viewers' emotions ran high.  While many avidly defended their posture based on religion, some thought this was a positive change.
What are your thoughts? Please share your thoughts with us! In addition, if you missed the show go to http://www.amanpour.com for more information.
Below, you will see some opinions from viewers like yourself. We would love to hear what you think.
EMAIL COMMENTS
Hi Ms Amanpour,
About the discussion that proposed banning of the Muslim veil in France, when I met my wife in Kuwait, she wore the traditional scarf (hijab) and the traditional women's robe. She was a practicioner of Islam and I didn't allow that to prevent me from getting to know her.  One of the reasons I went to Kuwait was in response to 911.  Being an American, I wanted to contribute towards the pursuit of those responsible.  So, I served as an armed security officer at a military base there.  However, despite my wife being a Muslim and the events of 911, I was able to remain open minded and respectful of Muslims as individuals which is how I judged my wife.  However, what makes this much more interesting is the fact I am an Atheist.  Nonetheless, because I judged my wife as an individual and not based on her religion, I proceeded with my intention to marry her which is what I did, less than a year later after my arrival in Kuwait.  And, I have no regrets til this day, almost 7 years later.  I share this with you to illustrate the fact people of different beliefs can function successfully in relationships as well as marriage.  My wife and I love each other for the things we do for each other and not our opposing faith or my lack thereof.  However, insofar as the burqua issue itself, having a security background, I do understand some of the concerns law enforcement may have.  Therefore, I believe through education, perhaps law enforcement, government, and religious leaders can come together to discuss those concerns and derive at ways of dealing with the issues short of banning or prohibiting a practitioner of Islam from wearing the traditional clothing or headdress.  In turn, the person who chooses to wear these articles should be understanding and willing to comply out of respect for the concern of their fellow citizens or host nation.  Of course, to accomplish this, they must be also willing to open their minds as well and listen objectively.
Sincerely,
S. Mitchell
Christianne:  Isn't an Israeli-Palestinian peace ageement completely and utterly hopeless unless President Obama stands firmly against the expansion of illegal Israeli settlements in the West Bank?   How much power do the Israeli nationalist extremists have regarding settlement expansion?  How much power does AIPAC hold over the president?   Would AIPAC threaten to block Obama's agenda if he's tough on the settlements issue?
sj