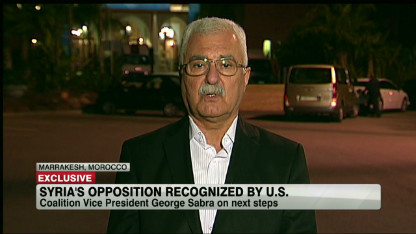 The Syrian Opposition Vice President
Christiane Amanpour speaks with George Sabra about the U.S. decision to recognize the Syrian opposition.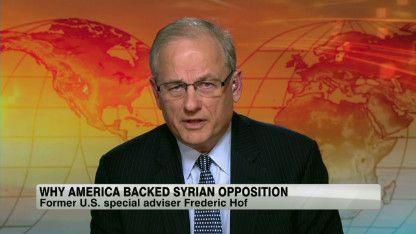 No diplomatic solution in Syria
The United States' former point man on Syria's transition says there's little chance for a diplomatic solution.
By Samuel Burke, CNN
The United States' former point person on Syria admits that there is practically no chance diplomacy will ever remove Bashar al-Assad.
Former Ambassador Frederic Hof told CNN's Christiane Amanpour on Wednesday, "My sense is that this will be ultimately decided through force of arms on the ground" – despite the Obama administration's reluctance to give heavy weapons to rebels.
President Obama announced on Monday that the U.S. would formally recognize the opposition as representative of the Syrian people, but that may not have a significant effect, at least for now.
"I think in terms of the military situation on the ground, quite bluntly, it changes nothing in the near term," Ambassador Hof told Amanpour. But he believes that politically, it is good for Syrians in the long term.
Despite the violence in Syria, many groups are nervous about what would happen if al-Assad were to leave - particularly minorities who have been protected under Assad's rule. But Hof believes that the U.S. recognition puts a face on the opposition and will help reassure the various factions.
At the same time it recognized the opposition, the Obama administration designated a group known as al-Nusra as terrorists—a move which was been met with backlash in Syria.  FULL POST