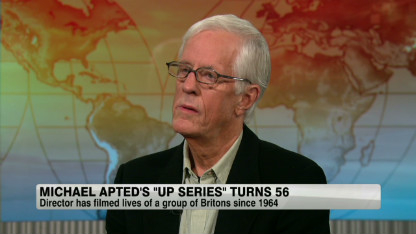 Part 1: Life in 7-year increments
A conversation with the director of the Up Series chronicling lives on film.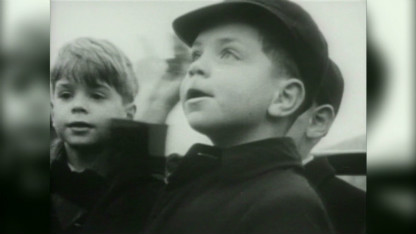 Part 2: Growing up on Camera
CNN's Christiane Amanpour looks at the Up series and what is like for the participants to grow on camera.
By Samuel Burke, CNN
For half a century, British filmmaker Michael Apted has been conducting one of the world's greatest sociological experiments on film.
He has chronicled and recorded the lives of ordinary people who come from sharply different ends of the British class spectrum.
He started filming the "Up" series when the characters were seven years old, and he has revisited them every seven years since.
Apted was a young researcher when he started working on the project, which he said was never meant to last this long.
"It was a one-off. It was just a quick snapshot of England in 1963-1964 to see whether the English class system was alive and well," he said in an interview with CNN's Christiane Amanpour.
The series took on a life of its own, becoming a cultural phenomenon. "56 Up," just released in the United States, is the eighth installment in the series.
Apted said that when he chose the young characters he was not particularly interested in their personalities – there was no time to be selective.
"If I was going to do it now, I'm sure I'd vet them and audition them," Apted said. However, he believes that all of the people in the series turned out to be compelling characters, proving that everyone has a story to tell.
As the children have grown up it has been increasingly difficult to get them to return every seven years. Some of the participants characters became more reluctant as they became more recognizable to the public. Others were dissatisfied with the fact that seven years of their life was compressed into less than 20 minutes on film.
At one point a participant, Suzy, was adamant that she would not return to the series. But upon forming an email relationship with one of the other subjects in the film, Nick, she proposed that the two sit down for the next interviews together.
The filmmaker had to accept their proposal.
"I suppose I have this ridiculous sense of loyalty to it, even though I hate it," Suzy told Apted in the latest series.
"I think [Suzy is] wonderful. And it's been a real pressure on me to try and keep her in the film, because she never liked doing it. And she's very difficult to interview," Apted said. "But she's incredibly valuable in the film, because she's a middle class girl; the rest of the women tend to be working class girls. So she's very valuable to me.
Apted does not mind that the participants have exerted themselves more in the how they are filmed as the series has matured.
"They own it more," he said. "And to me, that's great. So they tell me what they want to do rather than me telling them and since it's about them – that's good."
The highs and lows of the characters lives have been chronicled in often gut-wrenching moments on the screen. At seven years old, a young, smiling boy named Neil looked at the camera and said that he never wanted to have kids because they make a mess in the house. But decades later a clearly anxious Neil said he still does not want to have children, but this time he for very different reasons.
"Children inherit something from their parents and even if my wife were the most high-spirited and ordinary and normal of people, the child would still stand a very fair chance of being not totally full of happiness, because of what he or she will have inherited from me," Neil said looking down.
Apted says that Neil was the "roller coaster" in the series. By 21, Neil was homeless and Apted wondered if he would ever see him again.
"There is a medical issue with him," Apted said, "But he's always refused to confront that."
Neil's life made a positive turn, and the series chronicles his current life as a church deacon and a local politician in his neighborhood in northwest England.
As many aspects of the characters' lives changed throughout the series, Apted remained one of the constants.
"I think they would call me a therapist," Apted said. "But as we got older, we became collegial. And by now we're equals as it were. So our relationship has changed: the dynamic in the interviews has changed. It's got much more intimate, much more emotional. Like life, the whole series is a very fast-moving thing."
CNN's Meredith Milstein produced this piece for television, CNN's Ana Bickford served as Editorial Producer.