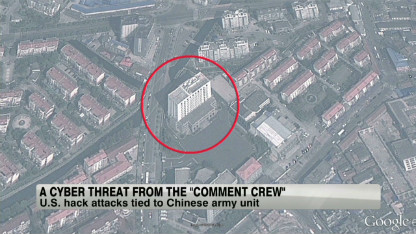 U.S. cyber battle with China
CNN's Christiane Amanpou speaks with reporter David Sanger about his report on the Chinese army hacking the U.S.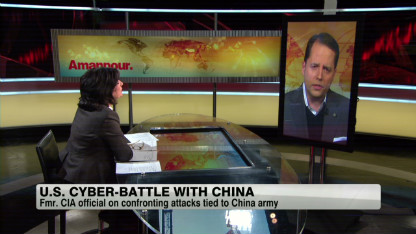 Former CIA official on cyber attack
CNN's Christiane Amanpour looks what the U.S. can do about cyber attacks with expert former CIA official Chad Sweet.
By Mick Krever, CNN
The U.S. believes that cyber warfare could begin to threaten the underpinnings of its relationship with China, New York Times journalist David Sanger told CNN's Christiane Amanpour on Tuesday.
Sanger and two colleagues reported in the New York Times on Tuesday that a secretive unit of the People's Liberation Army, the Chinese military, is responsible for most of the many Chinese cyber attacks on U.S. corporations and infrastructure.
"This is, diplomatically, I think one of the most complicated problems out there," Sanger said. "The fact that your adversary would know that you could get into their systems and turn them on or off at any time – whether it was cell phones or air traffic control or whatever – might well affect your future behavior. So it doesn't mean that they're going to do it, or there's out-and-out war, but it does mean that they have a capability to do this by remote control."  FULL POST