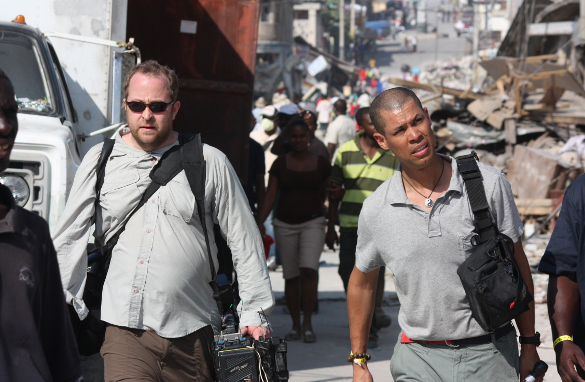 CNN cameraman Neil Hallsworth and Vladimir Duthiers
By Vladimir Duthiers
I am on my way home now.
As I prepare to leave Haiti, my mind drifts to the people I've met:
Bea, the young girl pulled from the rubble hours after my arrival. Monley, the five year-old boy rescued after eight days trapped under his home with his dead father at his side. The overworked and haggard but inspired doctors and nurses who worked on him long after his release.
The hundreds of international volunteers and rescue teams led by heroes like Pat Rohaley of the LA County Fire Department. I think of the  things I have experienced, seen, heard and felt. Hope when I heard a cry and a faint banging in a collapsed daycare, and helplessness after telling a young mother that the search for her child was being called off even as she looked to her faith for deliverance. I've seen homes pancaked and bodies by the hundreds, and I've seen Haitian men, women and children pitch in with whatever meager tools they have to dig out neighbors and strangers alike.
I've heard the screams of terror and the pitiful cries to God in the wake of bone rattling aftershocks and I've heard joyful singing and jubilant bongos in praise of Him. And it was in those moments that the tragedy of the earthquake became visceral.
The defiance of Haitian people in the wake of unspeakable tragedy, the shaking of their fists in the face of suffering. Their homes destroyed, their families decimated, they still rage against the dying of the light.
This country, born of the blood of slaves against the superpower of the 19th century, and tempered by years of turmoil and political upheaval, will go on. Not because they are resilient but because they must.
Winston Churchill once said, "We shall draw from the heart of suffering itself the means of inspiration and survival." Haitians have known that since 1804. They are survivors and they will survive together. After all, it's an ideal emblazoned on their flag: "le union fait la force."