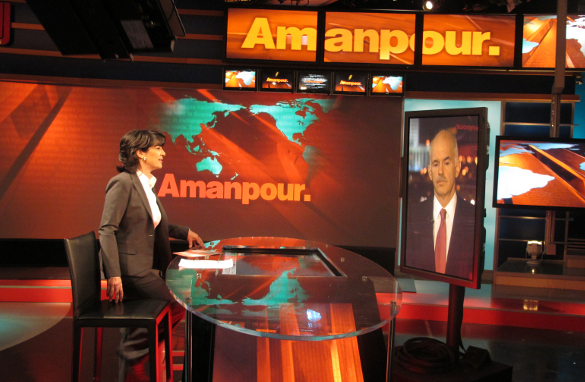 Greek Prime Minister George Papandreou
(CNN) - Greece is not looking for a bailout by the rest of Europe as it struggles to bring down sky-high budget deficits and public debt after years of profligate spending, Greek Prime Minister George Papandreou said Monday.
"We are asking for the support of the Euro-zone so that we can borrow on the markets, as every other country (does), basically with the same rates that other countries are borrowing", Papandreou told CNN's Christiane Amanpour.
"We have asked for the necessary time and political support to implement our program and, whenever necessary, measures we need to take."
His comments came as finance ministers from the 16 countries that use the Euro met in Brussels to try to find a way to end the crisis that some analysts say could also spread to other heavily indebted nations, such as Portugal, Spain, and Italy, and even undermine the Euro.
Greece had one of the worst budget deficits in the developed world last year, of 12.7 percent, more than three times higher than previously declared due to accounting irregularities - or what some call outright fraud. It also has a public sector debt equivalent to 113 percent the size of its entire economy.
"Our deficit is more a credibility deficit than a financial deficit, and we need to bring back the sense of credibility," Papandreou said.
Greece has unveiled a package of austerity measures to try to bring its budget deficit down to the 3 percent level allowed under the rules for the Euro-zone - rules that have been sidestepped by many European countries, albeit without any accounting tricks.
// "We have already moved ahead in specific measures, such as a tax on gas, a wage freeze... (and) we're moving for pension reform. We just tabled a tax reform," Papandreou said.
"We have some endemic problems, such as tax evasion and corruption. There was a lot of waste there, and hitting that may take some time, but we're doing it in a very, very systemic way."
He added that this crisis is an opportunity for the Greek economy to really turn the page.
Papandreou said the European Union's decision last week to declare its support for Greece was a watershed moment.
But reports say the German government of Chancellor Angela Merkel remains reluctant to give Greece the loan guarantees the markets believe it is seeking.
The former chief economist of both the German Bundesbank and the European Central Bank, Otmar Issing, told Amanpour that Prime Minister Papandreou is moving in the right direction, but the financial markets will judge whether it's enough.
Issing warned that it would be a grave mistake for the European Union to bail out Greece by giving it financial aid.
"What is especially important is that the 'no bailout' clause is not violated. This clause does not allow for any compromise," Issing said, referring to Euro-zone rules.
"Once it is violated, then it's broken. You cannot deny such financial aid to other countries once you have given it to one country, in this case Greece."
Issing insisted that the Euro will not fail this critical test. "After 11 years, the Euro is a big success, one of the biggest successes of monetary reform in the history of mankind. One should not forget that," he said.
But one of Wall Street's leading economists, Nouriel Roubini, a man who predicted the housing crash in the U.S., said Greece is not the only country in Europe with severe debt and deficit problems.
"This is not just a problem of Greece. It's faced by Greece, Portugal, by Spain, by Italy, by Belgium, by Ireland," he said.
Our deficit is more a credibility deficit than a financial deficit
–Greek Prime Minister George Papandreou
But Roubini said that Europe has no choice but to ensure that Greece successfully emerges from the financial crisis.
"The Europeans know that Greece is either too big to fail or too interconnected to fail," he said. "About two-thirds of the Greek public debt is held by non-residents - German banks, Italian banks, other financial institutions throughout Europe... so whether they want it or not, they'll have to provide that financial support to Greece."
Roubini added that Greece has limited options. "The whole point about the Euro-zone is that you have no independent monetary policy, you have no independent fiscal policy, you have no independent exchange rate policy, so you have to do the structural reform."
He said that structural reform is bound to be painful for the Greek people, and there will be more street protests. But it's vital for the Greek government to show leadership to end this crisis, he added.