By Lucky Gold, CNN
Imagine a world where a great leader is laid to rest one day, only to rise again the next.
No, it's not a bible story.
It took place today in South Africa, after Nelson Mandela was buried in his ancestral village of Qunu on Sunday, carried to his grave in a flag draped coffin, as helicopters flew in tribute overhead.
And today, a giant bronze statue to this giant of a man who conquered apartheid was unveiled in Pretoria in front of the Union Buildings, the seat of government, where he delivered his inaugural address as South Africa's first black president – and first democratically elected president – back in 1994.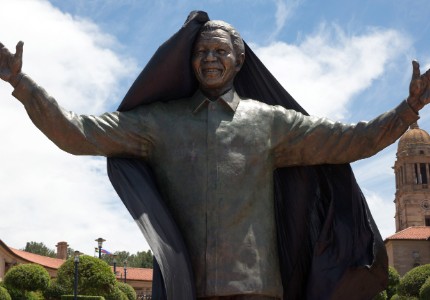 The statue had long been planned to celebrate these 20-years of democracy.
But the date of its unveiling is significant. December 16 has always been charged with history and meaning for South Africans.
On that date, back in 1838, Dutch-speaking Afrikaans defeated the Zulus at the aptly named battle of Blood River – establishing white minority rule that lasted over a hundred and fifty years.
But in 1994, with the fall of apartheid, December 16 was transformed into "the day of reconciliation" – celebrated as a national holiday ever since by all South Africans.
And now, the day has taken on new meaning, thanks to the man who helped bury apartheid – never to rise again.