By Mick Krever, CNN
With Syria the most dangerous country in the world for journalists, how do we have any idea what is going on?
There are thousands – perhaps even hundreds of thousands – of videos posted on social media of the war. But most people have no idea where to start in analyzing them, journalists included.
Enter Eliot Higgins, a stay-at-home British father who, as an amateur sleuth tracking hundreds of videos a day, has become a source for everyone from the New York Times to the British Foreign Office.
Working mostly from the couch of his home in Leicester, England, he studies videos for details about things like weapon type as evidence in how the war is developing and who is responsible for what.
He blogs online under the pseudonym "Brown Moses."
"I was, like many people, discussing stuff online about conflicts and current events and I was looking at Libya quite closely," he told CNN's Christiane Amanpour on Monday. "And there was a lot of stuff coming out from Libya from social media, tweets and videos that were just being completely ignored."
"So I thought, why not put them in one place?"
After a short absence following the birth of his daughter, Higgins once-again joined the online community of amateur sleuths, only to discover that the war in Syria had produced an exponentially larger trove of information.
"Some people say there's up to 500,000 videos posted from Syria," he said. "That's a vast amount of information, and people aren't really looking at it in any meaningful way."
His biggest moment, perhaps, has been the August 21st chemical attack in the Ghouta suburb of Damascus.
Before U.N. weapons inspectors were able to confirm with "clear and convincing evidence" that chemicals were used, Higgins was able to build a strong circumstantial case for their use, and that the Assad regime was responsible.
One of the key pieces of evidence he used was this video, posted, he said, by the Syrian National Defense Force.
[youtube=http://www.youtube.com/watch?v=8O7bhD1xW0Y&w=430&h=242]
"This was a very interesting video," he told Amanpour. "One thing there was a lot of imagery of was the remains of the weapons that were used in the attack."
And those weapons, he said, looked almost homemade, not like a "conventional weapon."
Higgins and his fellow researchers culled a long list of details culled about the weapon seen in the video.
"For example," he said pointing at the weapon, "there you can see black numbering. From the studying of the videos we can see there's red numbering on the chemical types, there's black numbering on the explosive type, which is what you have here."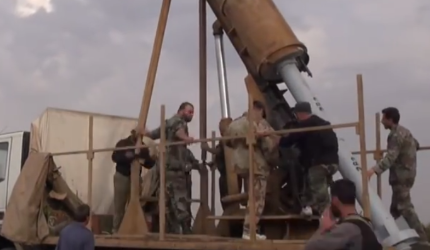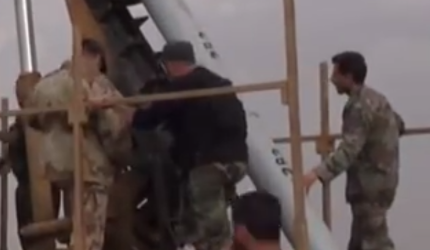 And there were other hallmarks, he said.
On the conventional version of the weapon, there was a single hole on the back of the munition; on the chemical version there were two, one of which was a "fill hole" for the chemicals.
So how did he tie chemical weapons, and the Assad regime, to the August 21st attack?
In its conventional version, Higgins said, the head of the weapon is filled with explosives.
"There's a massive amount of explosives," he said. "If that explodes, there's going to be nothing left."
"The munitions we found on August 21st were pretty much intact. The warhead looked like it had burst open, but there wasn't that much explosive damage."
"We also realized there was a fill hole, which wasn't present on some of the explosive ones we were seeing."
And because there were a large number of videos showing this type of munition, drew a line between the attack and the Assad regime.
For example, he said, a December 2012 video showing the weapon being fired from a government-controlled airfield.
In putting so much emphasis on these online videos, of course, confirming their veracity is paramount.
Sometimes the solution is surprisingly straight-forward.
"Basically you watch the video, see what the landmarks are, and then look for the landmarks on a satellite map," he said. "It's a bit time-consuming, but you can prove videos are filmed in exact positions."
Just as often, of course, the technique debunks claims about what an uploader claims that a video shows.
Higgins showed Amanpour a video showing a package of syringes clearly bearing the word "sarin."
[youtube=http://www.youtube.com/watch?v=MCBoGtNtXI0&w=430&h=323]
"This is something that actually comes up quite frequently," he said. "We always get video saying 'Oh, we found chemical weapons, this is proof of chemical weapons, it says 'sarin.'"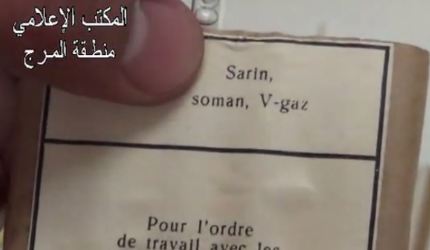 In fact, he said, this video shows chemical weapon testing kits.
His corroboration was surprisingly simple.
"I was looking for a good reference image, and I thought, 'Okay, I'll just put it in eBay.' And someone was selling a complete testing kit with all these beautiful, high-resolution photographs."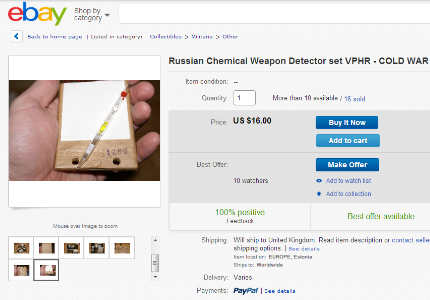 "There's so much rumormongering."
Higgins says that he's not trying to bolster either side in the bloody Syrian civil war, and is just trying to document the war as best he can.
And at this point, the war has become complicated, it's hardly one side versus another.
"The Free Syrian Army, whatever that means, is basically powerless and virtually worthless at this point. The country's been taken over in opposition-held territory, in the North, by the Islamic States of Iraq and al-Sham, Jabhat al-Nusra, also al-Qaeda affiliates."
"They're getting increasingly powerful weapons that they're using increasingly indiscriminately. Basically, the country's been destroyed by this war."