By Mick Krever, CNN
Watching the earth from the International Space Station is "like a gift that is just unwrapping itself perpetually underneath you" Canadian astronaut Chris Hadfield told CNN's Christiane Amanpour on Monday.
Hadfield propelled himself to fame when, earlier this year, he sang David Bowie's iconic "Space Oddity" while on board the Space Station – guitar included.
[youtube=http://www.youtube.com/watch?v=KaOC9danxNo&w=430&h=242]
The video has since been viewed over 20 million times, and has made Hadfield perhaps the most well-known astronaut since Neil Armstrong.
The music video was the pièce de résistance of a series of videos on life in space, describing everything from how you brush your teeth to the surprisingly mesmerizing view of a newly opened can of nuts.
[youtube=http://www.youtube.com/watch?v=EtaWWCXbtbY&w=430&h=242]
He had, he explained, a "rare human opportunity" to see the earth "as a discrete place in the universe, and not as some vast surface area."
"What would you do if you were there on behalf of everybody else on earth?" he asked. "It was an obligation to share it with everybody that had trusted me to go on their behalf."
He has written a memoir of his experiences, "An Astronaut's Guide to Life on Earth."
As an astronaut, Hadfield was constantly confronted with the possibility of imminent death.
"A lot of people live their lives in fear, or at least they allow fear to dictate some important part of their decisions in life," Hadfield said. "As an astronaut, you have to somehow confront something that should be terrifying, which is to ride a rocket ship, or to do a spacewalk."
For non-spacewalkers, fear – if properly managed – can allow you "to do some things in your life that are just right on the edge of impossible," Hadfield said.
That constant confrontation with fear sometimes manifests itself in a very real and deadly way for astronauts.
In 2003, when the Space Shuttle Columbia was on a mission in orbit around the earth, Hadfield was NASA's director of logistics in Russia.
A piece of foam had fallen off the shuttle during launch, and hit the heat shield that protects the shuttle during re-entry into the earth's atmosphere; the NASA engineers knew that there could have been damage, but nonetheless gave the go-ahead for re-entry.
There had in fact been damage, and the shuttle burned up during re-entry, killing all on board.
"I had sat in my apartment in Star City, in Russia, and replayed on my little laptop that damage that had occurred to Columbia – that piece of foam coming off. I had watched it and somehow decided that it was okay."
"If I had stood up," he said, "I had enough of a voice to stand and say 'We cannot re-enter the atmosphere; we have to do a spacewalk and at least go look.' But I like everybody else just made the wrong assumption and it led to the death of my friends."
Hadfield knew personally all of the astronauts who died in the disaster.
"The astronaut community is very small," he said. "I knew Rick Husband, the commander of Columbia, like a brother; we'd been at test pilot school together."
Hadfield returned to earth in May after spending 144 days in space. His enduring memory, he said, will be watching the sun rise from the Space Station's glass-capped cupola.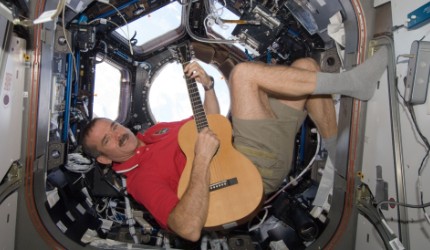 "Coming around the corner into the light, and the sun bursts into existence because of our speed, and the whole space station glows this deep blood crimson, and then settles down as the sun comes through the atmosphere and to this scintillating glistening blue of the solar arrays. And you get to see 16 sunrises like that every single day."
"I tried to miss none of them – it's a magical experience."