By Christiane Amanpour and Lucky Gold, CNN
In his state of the union address on Tuesday, U.S. President Barack Obama spoke of diplomatic pressure that has forced Syria to surrender its stockpile of chemical weapons.
Now imagine a world where dictatorship, terror and fear – and 95% of those chemical weapons – remain in place.
The United Nations-backed Organization for the Prohibition of Chemical Weapons (OPCW) – winner of this year's Nobel Peace Prize and charged with locating and destroying those caches of sarin and mustard gas – now says "only a small portion" of the stockpile has been shipped out; perhaps only 5%
As cargo ships wait to transport these weapons to their eventual destruction, the Assad regime is dragging its feet and failing to deliver. It is now eight weeks behind schedule.
It blames the civil war it continues to wage for making it more difficult – a new definition of 'chutzpah' for the Oxford English Dictionary, perhaps.
And all the while, even as both sides sit around the peace table in Geneva, the Syrian government conducts a scorched-earth policy against its own people.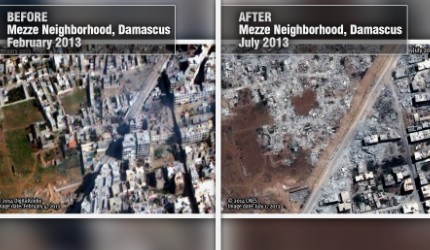 These satellite images, just released as part of a new human rights watch report, show a neighborhood in Damascus – before and after its demolition last summer.
Buildings have become graveyards and graveyards shelters for thousands of civilians left homeless and besieged – literally starved for food, water and electricity – not only in Damascus, but in once thriving cities like Aleppo and Homs.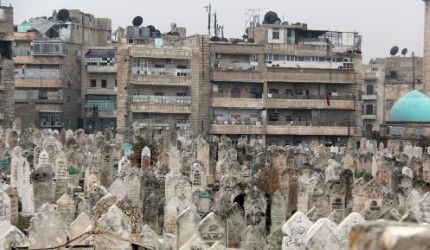 No, it's not the Middle Ages. It's modern Syria – where diplomats keep talking and people keep dying for a crust of bread.