By Mick Krever, CNN
How do we know what is in the mind of a mass murderer? How about getting them to re-enact those crimes?
That is exactly what documentary filmmaker Joshua Oppenheimer did with several men who participated in mass killings in Indonesia decades ago.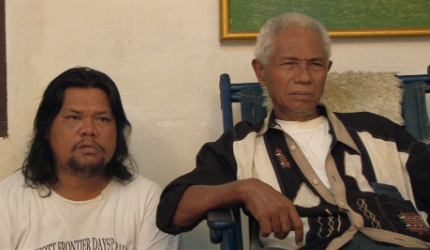 "It's tempting to look at them through the lens of sort of fiction storytelling, where you have good guys and bad guys, good guys and then cackling villains," Oppenheimer told CNN's Hala Gorani, sitting in for Christiane Amanpour, on Monday.
"When you're a non-fiction filmmaker, you have to look at the real people you meet."
Few people outside of Indonesia have heard of the death squads operating there in 1965 and 1966. Human rights groups say these groups killed between 500,000 and a million accused communists.
Oppenheimer constructed a unique and strange narrative about this period in his new film, The Act of Killing. The film has just won a BAFTA for best documentary, and is nominated for an Academy Award.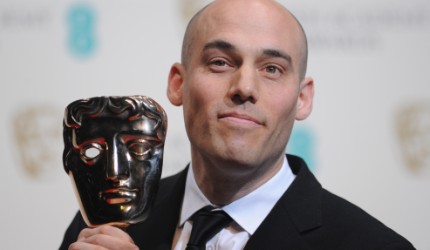 He had originally sought to make a film about victims of the death squads, but says the Indonesian military forbade him from doing so. The victims' families urged him to try to talk to the perpetrators.
To his surprise and horror, they were enthusiastic. They agreed to make a movie about how they killed and allowed him to film the process.
The result is a mind-bending movie within a documentary, by turns emotionally revolting, beautiful, and bizarre – one of the mass killers appears, as often as not, in drag. It is rarely entirely clear what is 'acting' and what is genuine.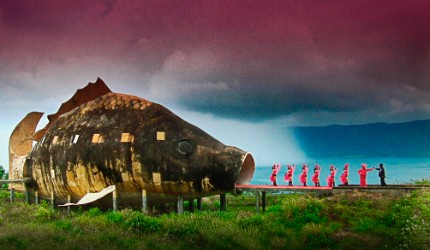 "When you ask a killer initially just why did you kill these people, they will answer with ideology," Oppenheimer said. "They'll say, 'Oh, we were opposed to them because they were Communists or because they were Marxists.'"
When you dig further, you discover that "the ideology was always an excuse they told themselves afterwards to justify their crimes."
Because the perpetrators have "remained in power," and the U.S. and UK among others supported the Indonesian regime at the time, Oppenheimer said, the death squad leaders have never been forced to truly account for their sins.
It is astonishing to watch the protagonist of the film, Anwar Congo, who is rumored to have killed as many as 1,000 people, demonstrate with proud how he bloodlessly killed by wrapping a piece of piano wire around his victims' neck.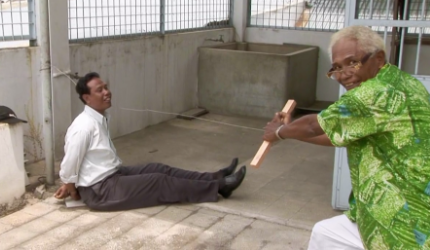 "Rather than admit what they've done is wrong, and open themselves to the tormenting effects of guilt, I think they've clung to a victor's history that they've written celebrating what they've done as glorious."
Nonetheless, he said, the perpetrators are and remain human, so they do know that what they did was wrong, and are "desperately trying to deny it."
"Somehow their very humanity is involved in the mechanism of evil, because once they've won and tell themselves a lie, justifying their actions and cling[ing] to that lie, maintaining that lie, maintaining that excuse – that victor's history inevitably leads to further evil."
In the film the perpetrators make about their killing – the film within the documentary – Anwar Congo plays one of the very victims he so mercilessly murdered.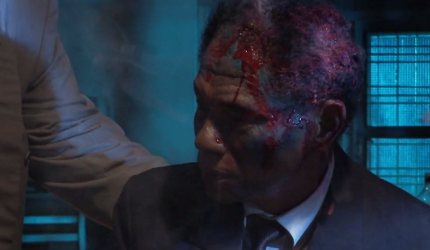 "I think in some ways the reason he's participating in the film is because he's somehow trying to run away from the horror of what he's done by making a movie about it," Oppenheimer said.
"It's as though if he can make, as he says at one point in the film, 'If I can make a beautiful family movie about what I've done, I can' – it's as though he's feeling he can put it right for himself. And of course he can't."
By the end of the film, Congo has an intensely physical reaction, it seems to recounting the horror of his acts.
"Knowing Anwar, I don't think he has the capacity or the courage to day in and day out say to himself look what I did was wrong and to acknowledge the consequences of it."
"But I think that – I think that Anwar regrets what he's done," Oppenheimer said. "And when he leaves the film, the final scenes of the film, we see a man who's destroyed himself."
Having spent so much time in the company of self-professed mass killers, Oppenheimer is better placed than most to know what drives someone to such horrors.
Mass killing of course continues to this day – whether in Syria or Central African Republic to name just two. What, Gorani asks, drives a person to commit these acts?
"I would hope, if I grew up in his family in 1950s Indonesia that come 1965, come the genocide, I would make different decisions," Oppenheimer said. "I know that I'm extremely lucky never to have to find out."
"Because they keep happening again, we have to deal with the reality directly – the unpleasant reality, the frightening reality – that it is human beings who do these things to each other."
"And unless we look directly at that frightening fact, we have no chance of preventing these things from occurring in the future."